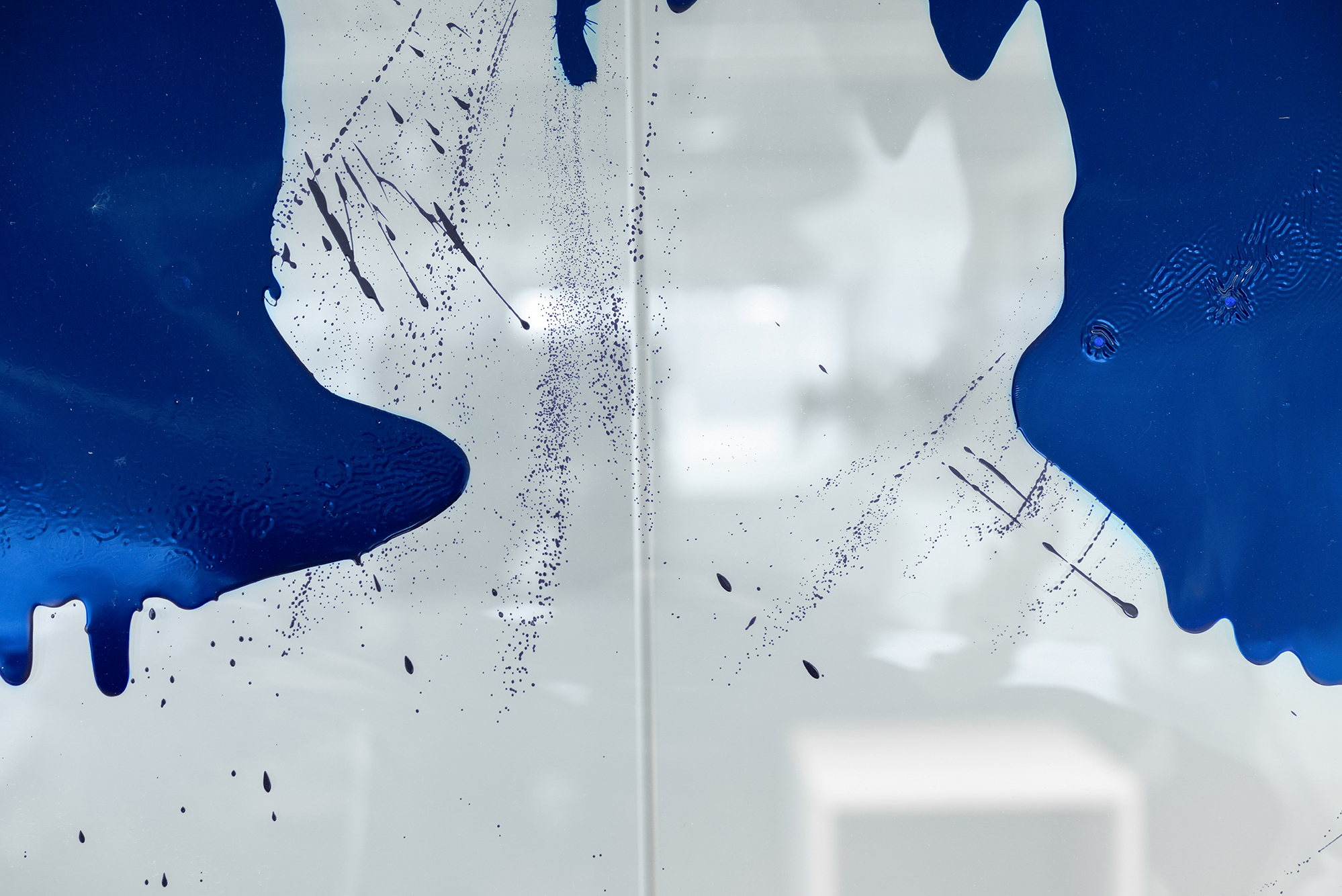 Thoughts on FIVEechoed, an installation by Dagmar Varady in the office of Prof. Dr. Claudia Perren
Dagmar Varady has buttressed a considerable and luminous career as a visual artist by magnifying her studio practice with forays into digital technology, biology, science fiction and environmental studies. By translating the intricate systems in play within these disciplines, she exposes the rich emotional potential of objective inquiries. Throughout, her work has remained assertively visual. The links between the rational and subjective reflection are made deliriously clear in her nuanced use of traditional, formal tools of color, light, composition, material, texture and space. These are expressive devices familiar to any artist, but in Varady's hands the result is much more than an aesthetic experience. Instead, her responses to and distillations of data offer a compelling means through which she processes evidence into visual poetry. Hers is a magical weaving together of intricate concepts with emotional resonance. When in its company, the experience felt is purely phenomenological; spatial, physical and evocative, it is inhabited as well as reflected upon. Through research, collaboration and a deeply curious intellect, Varady elevates the process of "art making" to the wondrous sensory experience of seeing and feeling.
The notion of a life fully integrated into art is passionately communicated in her recent collaboration with Prof. Dr. Claudia Perren of the Academy of Art and Design in Basel, Switzerland. From a somewhat chance encounter with Varady's work via a digitally posted New Year's postcard, Perren initiated a conversation with Varady that led to a provocative and exciting collaborative project.
Timely, and apropos of the initiative taken by so many creatives in response to the enhanced isolation and limitations produced by the COVID19 pandemic in the last two years, Varady and Perren's burgeoning correspondence resulted in a complex, site-specific installation called FIVEechoed. Coming out of regular telephone conversations and Zoom and FaceTime calls, these longtime friends learned more about each other and the spaces in which they work. Although carefully constructed in Varady's studio, the final installation is in Perren's office on the campus of the Academy of Art and Design in Basel. This incredibly site-sensitive work exists in response to a space enhanced by the natural light streaming through several window walls. The shifting porosity between inside and outside was an important architectural framework influencing Varady's ideas, and in many ways, became an overriding theme.
Several factors drive the success of FIVEechoed. One critical mechanism is color. Early in the evolution of her thinking process, Varady made the decision to work with a single, very specific hue. The choice was an important one, but no doubt difficult, considering the unlimited number of chromatic options. Once arriving on a particular brilliant blue, Varady began to freely apply the pigments to transparent panels. There's no reference to image or narrative in the shapes; only a subtle suggestion of forms referencing the residue of the natural world. Splashes and spills; puddles, pools and drips we might see after a downpour all tell us about fluidity, viscosity and gravity. The color of these forms takes us elsewhere. It's not a blue that one can find easily in nature. It seems more synthetic, inorganic, manufactured. It's the color's intense plasticity that takes us back to the world of objective study that is so important to Varady's work. The form's gestural quality brings to mind the emotional and expressive power of mid-20th century abstract painting. Dispatched in the panels of FIVEechoed is vitality decisively balanced by blunt color. That dichotomy forms a satisfying element of tension in this important work.
One of the many graceful enigmas occurring in this work is its ability to assert pressure on its setting while respecting the purpose of its design and function. Using paint-activated transparent foils, Varady's gestural forms seem to float in a space populated by the ubiquitous furnishing requirements of any office space. Although abstract, the room-high framed foils avoid any sense of the decorative. They communicate by asserting presence and attitude. Simultaneously integrated within and separate from its context, FIVEechoed is both subversive and reverential.
The spirit driving FIVEechoed would not exist without a framework provided by Perren. Carefully organized to function as a place of inquiry and reflection, the office tastefully echoes its occupant. There is a sense of order and comfort in this space that forms a necessary contextual zone for Varady's intervention. Whereas the architecture and interior design reflects Perren's particular workspace needs, Varady's work takes care to apply just the right amount of pressure to keep things from getting too comfortable. Like a slightly impolite guest, the installation provides something awkward and troublesome.
There are so many reasons this is a significant collaborative work by Perren and Varady, the least of which is how successfully it reconsiders the historical institutionalization of art. Siting this installation in an active, functioning office allows a level of engagement that otherwise would be impossible. For Perren, the daily reflection on and movement through the panels that make up FIVEechoed must be pure pleasure. For her visitors, the experience will always be something unexpected and entirely conversationworthy.
Tremorous, and visually and acoustically resonant, FIVEechoed exists as a sensory-heightening spatial disruption. It's a work — indeed, a full collaborative effort — that suggests how essential the integration of art and life can become. The results here prove that to be extraordinarily true.